At Terrell Hogan, we are committed to representing people who have been injured and need someone to stand up for them, to speak for them. We help them seek justice and hold accountable those whose negligence and wrongdoing disrupted their lives back, often causing devastating harm.
Trial attorneys stand up to big corporations and hold them accountable. We work to preserve a balanced civil justice system and advocate for tough laws to protect consumers because part of our goal help make cars, trucks and highways are safer, make medicine better, and the environment cleaner.
One group that helps is the Center for Justice & Democracy. The Center for Justice & Democracy is the only national consumer organization in the country exclusively dedicated to protecting our civil justice system. Founded by consumer advocates in March 1998, I am proud to be a member and support the good work of CJ&D.
Advocacy for Consumers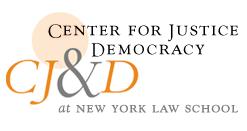 A wonderful example of their advocacy is their "Lifesavers Guide to Lawsuits that Protect us All." CJ&D released the first issue in 2001 containing a compilation of over 80 injury lawsuits that have led to major safety improvements. Lifesavers 2016 adds many new cases and is the most comprehensive compilation ever assembled of tort lawsuits that have led to specific safety improvements benefiting large segments of the population. The cases span 50 years and include both well-and little-known examples that have resulted in the redesign or recall of a product, a changed hospital procedure, a safer workplace, a more secure public area, putting a dangerous hate group out of business or creating a cleaner environment. In other words, this study documents and explains how lawsuits and the civil justice system not only help victims of negligence and law-breaking but also lead to important changes in policies and behavior that protect us all from dangerous or illegal practices.
Lifesavers 2016: CJ&D's Guide to Lawsuits that Protect Us All